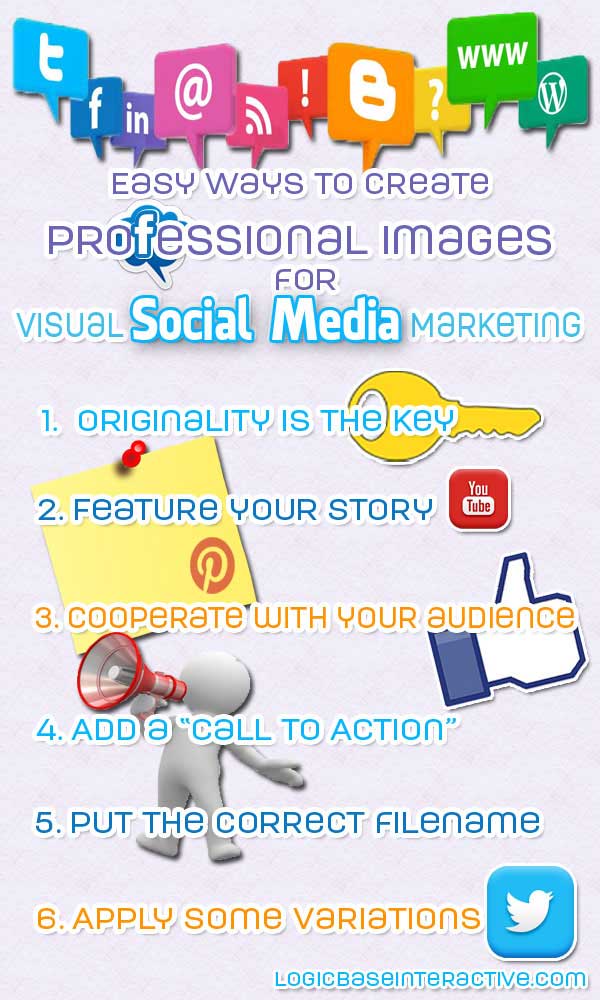 Easy Ways to Create Professional Images for Visual Social Media Marketing
Visual Social Media is one of the great opportunities for business to achieve more clients and increase sales. It is called visual because we are more engaged to any "visual content" in many ways online.
Through creating attractive, informative images and posting it to any social media like facebook, pinterest, twitter and many more, it makes business grew even faster. It is more effective than posting a plain text, why? Because images can be shared, commented on, and liked more than a plain simple text. It is not a question that an image can tell thousand words and it impacts our emotions and reactions.
Whenever you have something to say, use visuals. When advertising a product, announcing an event or simply expressing your feelings, it is better if you associate some visuals for that, an original one if possible. There are many types of visuals you may use like pictures, images, infographics, videos, graphics and animations.
Now, the question is how to create a professional image that would increase your business sales through social media? Read the following and find out how.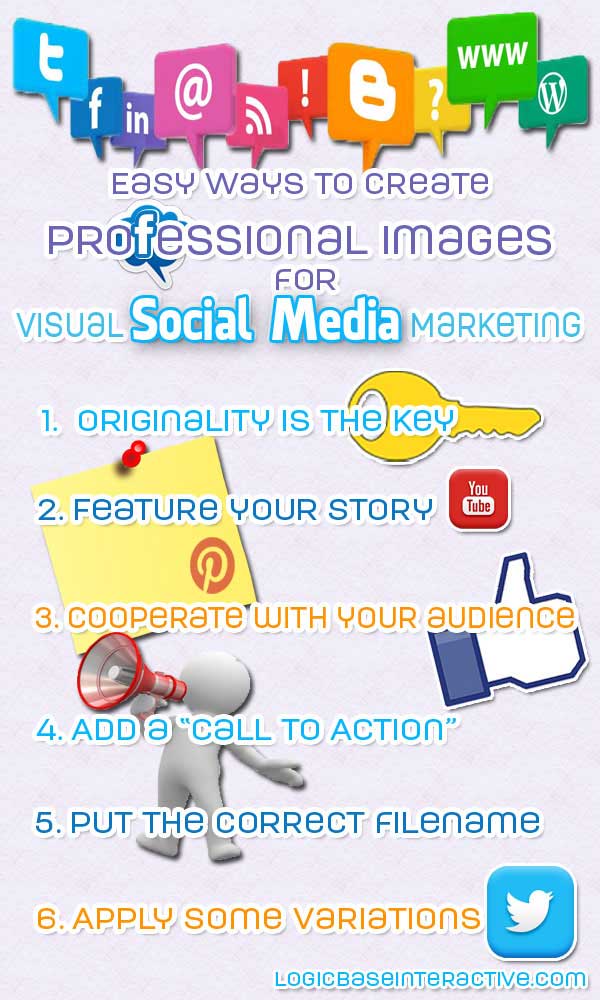 Originality is the key – You can do some search for a particular image and use it but it is better to create original. A visual that you made alone. Imagine how proud it feels to know that your creation has spread the clouds, many people can see, appreciate it and share it more. If you are not good in visual making you can hire a professional graphic designer to do that one for you, or you can do some in-house training for basic editing lessons. There are also quality DIY programs you can found on the web who can help you create quality visuals like Canva and PicMonkey. Visuals like quotes, checklists, tutorials, infographics, videos, slide presentations, information that helps or inspire your audience can surely attract more audience on the web.
Feature your story – What's inside an image? Effective images contains emotion and connection. Use images that tells a story, a story that connects to the audience and your product as well. An image where your audience can relate and respond physically and emotionally. You can also post true-to-life images. Why not post your image where you received your most prestigious award? Or the image where you shake-hands with your favorite athlete? Show your big moments, it's very compelling.
Cooperate with your audience – Create an image like you are finding a solution to a problem by asking your audience to help you out. Ask them to create and share images for you or ask them to contribute to photo and video competitions, promotions or events. You may also ask your audience about the name of your new product, or content to share online. You may be amazed to their active feedbacks! If you are creative enough to bring videos and images into the mix, then you can really get the help and participation of your audience in a way that you can share your message wider and faster.
Add a "Call to Action" – You may add captions and descriptions to your images in a way that asks your audience to respond to your post. Add keywords & hashtags to image descriptions, include your website url on original images. Balance the text and image to create a very powerful and attractive visual. You must really need to add some text to your image unless the image itself explains the message you want to express.
Put the correct filename – The filename "my-cute-white-cat.jpg" is a lot more informative than "IMG1000jpg". Descriptive filenames can be so useful for the users and SEO's. Naming an image may take time to in preparing it to publish, but it is important and worth the effort!
Apply some variations – A photo sharing website does not mean you must post photos only. You can also post photos that includes texts, information, recipes, and many more. You may also tweet images and pinterest pins on twitter, pin videos to pinterest, post more images on facebook and apply a quality image on your blog post.
All set! Let me ask you now. Are you still going to stick with your plain posts on social media? Or you want a little shift and try this visual social media marketing for your business? I would appreciate your thoughts and comments below and let's see the big change Visual Social Media Marketing may bring.