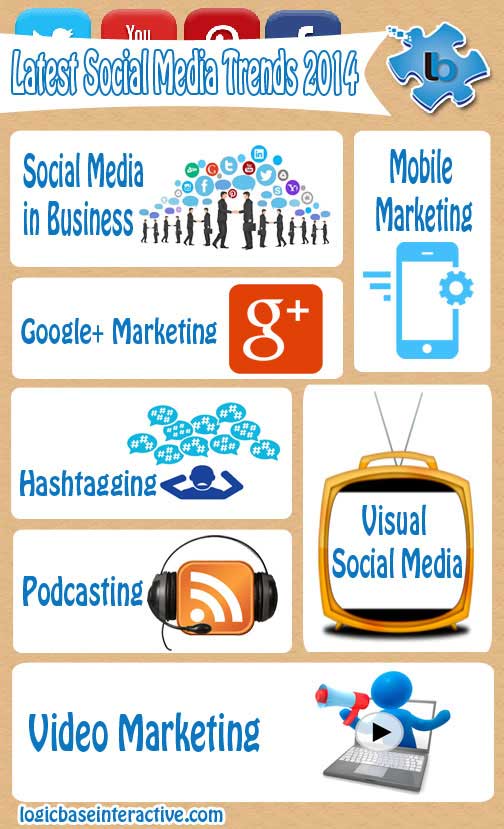 Latest Social Media Trends 2014
The online world has become more and more social every year. In fact, social media has become so much part of our lives even in business. Companies need much exposure in online community to build trust with customers, become a support channel, and makes communication easy and quick. In order to maintain you and your companies' competitive edge, you need to stay ahead of the game. Have time to read and apply these 7 Latest Social Media Trends for 2014.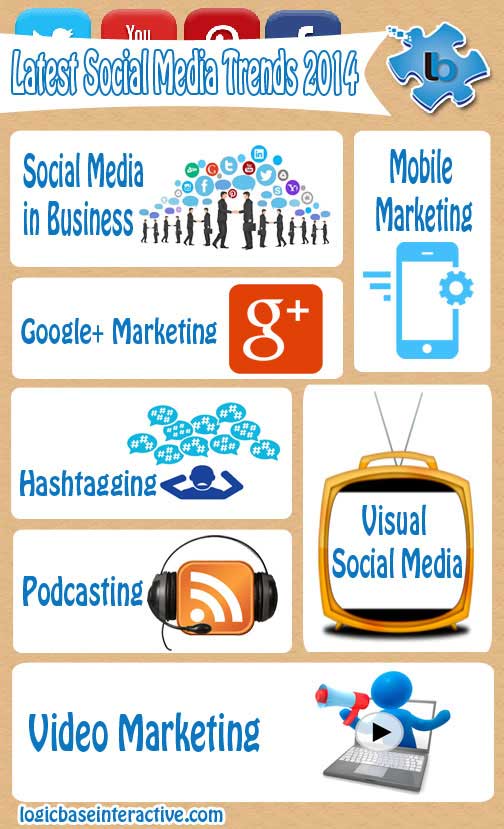 Social Media in Business
Companies must integrate their business into social media. It will be of great help to advertise products, increase sales and earn more customers. Studies shows that 92% of marketers say their social media efforts have generated more exposure for their businesses.
Mobile Marketing
Studies shows that almost 40% of time spent online is through some type of mobile devices. This year, Forbes predicts that by 2017 Mobile Sales will grow by 87%. So it is clear that mobile marketing is one of the most popular social media marketing trends for 2014. When selecting your platforms and marketing solutions, invest in those that works for both desktop and mobile.
Visual Social Media
There is no denying that visual social media marketing has already affected the growth and popularity of social media. In fact, websites like Pinterest and Instagram continue to grow and gained more and more subscribers. Most marketers plan on using more infographics, contests in image forms and memes in the social media marketing. For more tips to create professional images for social media marketing, you can read here.
Google+ Marketing
The Forbes article noted that Google+ is also one of the social media marketing trends for 2014. Because it is a child of the search engine giant, Google itself, a Google+ profile for your business is essential for increasing traffic and page rank. It is also merged with other Google apps like Google Places, Google Authorship and youtube.
Hashtagging
Hashtags are now not only limited to twitter but is also trending in Facebook, Pinterest, Instagram and even Television shows. For those who didn't know yet, a hashtag is a pound sign that precedes word or group of words that creates a searchable link. If you click on a particular hashtag, everything and everyone who create the same hashtag will be displayed. In other words, hashtagging has now becoming a new form of SEO. To learn more, read here.
Podcasting
A podcast is a digital audio file made available on the internet for downloading to a computer or portable media player. Through this, audience will just listen to the article or any content in your website. They can then multi-task while listening to podcast. Studies shows that 33% of the growing companies are planning to create original audio content and 28% want to improve their knowledge of podcasting.
Video Marketing
More than 50% of all online traffic is now video-based. And since Google owns Youtube, it can be of great benefits in your SEO strategy. Videos can now be linked to other social media accounts like Facebook, Twitter, Pinterest and Instagram. For best results, keep your video catchy, short and simple because you are demanding attention from a world full of people with short attention spans.
These are the Latest Social Media Trends for 2014. Be sure to carefully read and apply everything to increase your companies' exposure in online world.