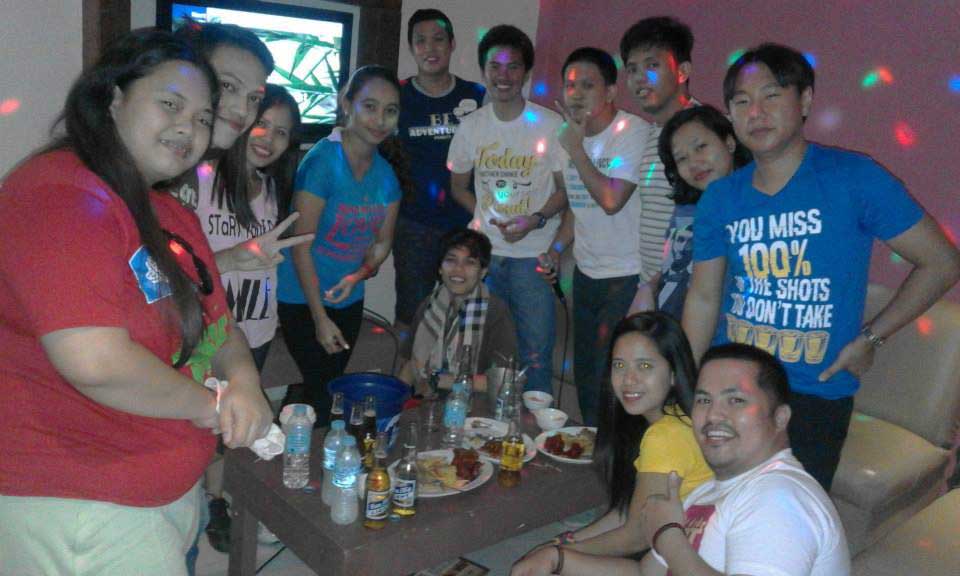 LogicBase Interactive's 1st General Assembly: Showcasing Achievements, Updates, Statements and Fun Bonds Packed as One
Productive day as it can be, LogicBase Interactive Family dashingly hit Watever Family KTV after their fitness activity was successfully held at CrossFit Kagayan, CGY Fit Fitness Solutions last Saturday, July 18, 2015.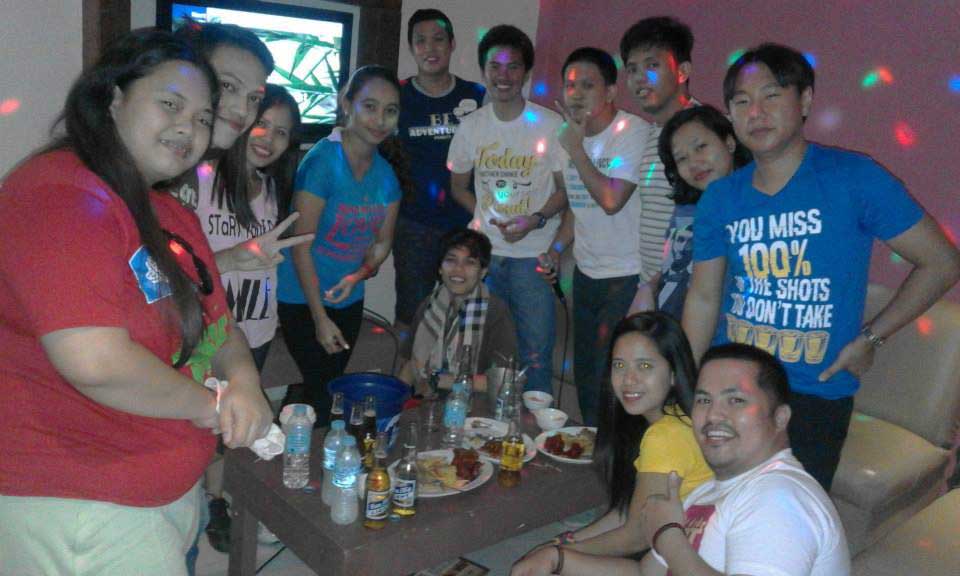 The modish and vivacious location is just perfect enough for rejuvenation after an intense, yet fulfilling workout. With all the utilized energy, discharged sweats and temporary body pains from the said vigorous workout, everybody deserves to have fun and rejoice the company's achievements, updates and bond like a one big happy family.
But wait, what just I've mentioned earlier? Where did LogiBase Family go? (Voiceover: Watever!) Huh? Watever? What kind of place is that? (Voiceover: It's a Family KTV, a recreational place for karaoke buffs where you and your friends or family can rent a karaoke room and enjoy singing like a pro.) Then what specific room they rented? (Voiceover: I don't know!) Like seriously? Are there places like "Watever" and "I don't know"?
Well, you might not believe it and feel like being fooled but, that's true and can be found only in the Philippines! It's more fun in the Philippines indeed! With the distinctive KTV name, fancy and comical karaoke room names taken from common expressions (e.g. However, Wherever, Ok, Fine, Why Oh Why, OMG, Forever, etc.), well-ventilated rooms and cool musically-inspired interiors, our experience in the KTV was a total blast filled with delightful memories to keep.
Before the day of pleasure begins, the flow of our assembly was headed by Ms. MJ as she finally opened the program and expressed her thoughts giving us an idea of why we will have a general assembly, what is the purpose of the gathering, and what particular activities are we going to enjoy (that includes the sharing of statement t-shirts and karaoke session) during the day. As followed by an opening prayer leaded by Jovannie, asking for guidance and blessings from above, the event runs smoothly, safe and sound. Prior to continuing the program, Ms. Yani gave her opening speech regarding to what a general assembly means and what are certain important matters we need to discuss about.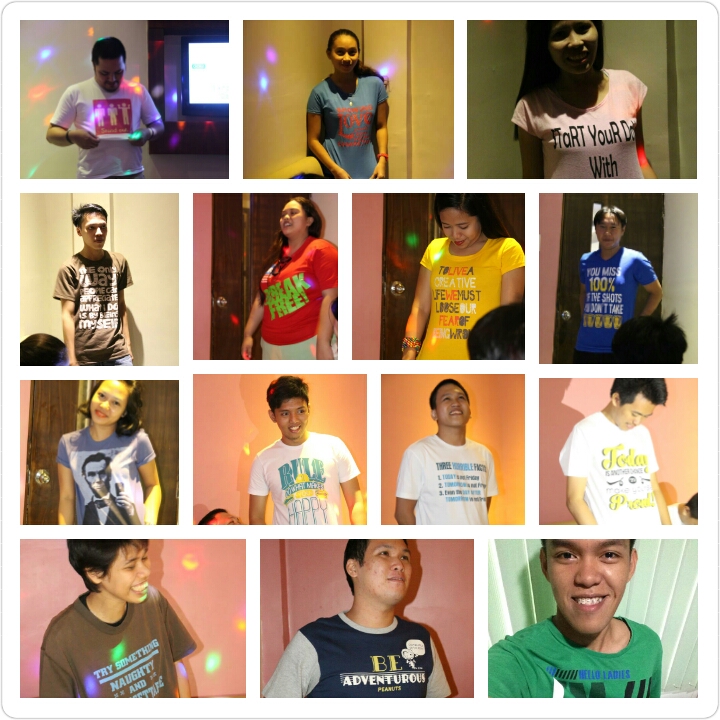 Part of the most awaited activities that the LogicBase Management had prepared for us was the sharing of striking messages and explanations with a theme of "Show your Statement T-Shirt". As all were gathered around wearing a statement t-shirt to flaunt, Sir Coy was the one who get the ball rolling showing his t-shirt saying that everyone must, "Stand Out". Next was me, wearing a t-shirt that indicates of "Showing Love, Youth, Dream, Individual Character", followed by April as her t-shirt points out to "Start your day with smile", and then next was Jeff with a t-shirt that quoted "The only way people can appreciate what I do is by being myself". Subsequently, Guilda presented her t-shirt which says to "Break Free", then followed by Ms. MJ as she wore a t-shirt, flaunting that "To live a creative life we must lose our fear of being wrong", next in line was Sir Bryan with a t-shirt stressing on "You miss 100% of the shots you didn't take", afterwards was Ms. Yani who was able to call our attention as she wore a unique t-shirt that has a photo of a President taking a selfie that portrays Leadership and Creativity. After Ms. Yani, it was Francis' turn as he shared his t-shirt that speaks out of "Rule # 1, Do what makes you happy", next in line was Jovannie, as he wore a funny statement t-shirt that only talks about Friday, "Three horrible facts: Today is not Friday. Tomorrow is not Friday. "Even the day after tomorrow is not Friday", followed by Cliff, wearing a t-shirt accentuating that "Today is another chance to make yourself proud" and linked his statement from the other shared messages of the team, next was Patch as her t-shirt emphasizes that we must "Try something naughty and unforgettable", second to the last was Paolo as his t-shirt highlighted that everybody should "Be adventurous peanuts", and lastly, though he was not around, Jan still joined the activity through sending his photo wearing his shirt that expresses "I'm your future Ex".
Through the round robin sharing of thoughts, each member of the family was able to speak out of what was inside our heads and the said activity also able to expose if who among the circle of members are more creative and passed the criteria of judging for winning the "Best Statement T-Shirt". Without further ado, it was Jeff who fortunately won the award and recognized his t-shirt as the one that "stands out" among the rest (Taken from Sir Coy's statement t-shirt "Stand Out" – Haha! :P).
With all of the triumph and fruitful labor gained by LogicaBase Interactive, gratifying updates and goals was shared by Sir Bryan as he mentioned about an upcoming project that the Management has planned to put up believing that if "we have a product, we have a freedom."
The general assembly just actually end that fast, before proceeding to the karaoke session, Sir Coy gave his closing message and there was also an announcement of awardees and sharing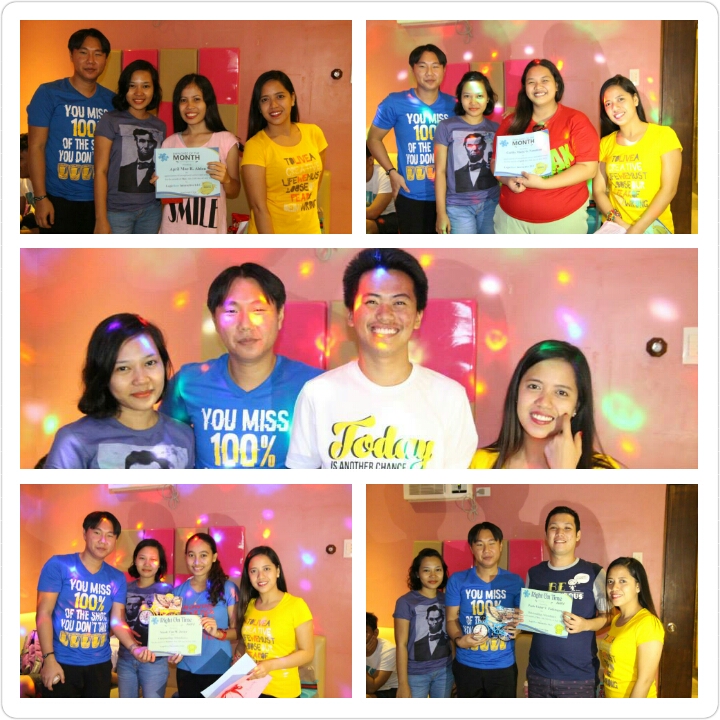 of company's updates regarding the new projects handled and will be handling. For the "Right on Time" award, yours truly (Nicole) and Paolo bagged the award while April, Guilda and Cliff garnered the "Best Employees of the Month" award. The recognition part of the program was then followed by a brief speech coming from the "New Regular, Patch" and the "New Hired Employee, Francis". Congratulations to the Whole LBI Team! This is undeniably a sweet launch of what we called "success".
Before you turned to next page, let me leave a quote,
"Starting something is scary; because you put your name, time, and money on the line. Starting something is not easy, because some people are afraid to fail. So with starting something, we should plan very well and put everything on the line in order to succeed …"
These lines are quoted by the LogicBase President, Bryan King. The "something" he is referring on his statement is one of the core means why "LogicBase Family" exists. Big thanks to that "something", we able to meet each other unexpectedly and build a strong foundation of camaraderie, teamwork and peerless connection.
More pictures on our FB Page – https://www.facebook.com/logicbaseinteractive